Get Started
This course is currently closed
Login
Accessing this course requires a login. Please enter your credentials below!
Lost Your Password?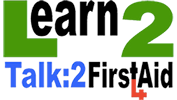 Current First Aid Legislation
Employers should ensure that an employee who is injured or taken ill at work receives immediate attention. The HSE will prosecute in cases where there is a significant risk, a disregard for established standards or persistent poor compliance with the law.
Read how First4Aid meet both of the above recommendations here.
View all the First4Aid Quality Assurance and certification delivery Policies here.
3. Employers have a legal duty to make arrangements to ensure their employees receive immediate attention if they are injured or taken ill at work.
An employer shall provide, or ensure that there are provided, such equipment, facilities and suitable persons as are adequate in the circumstances for enabling first-aid to be rendered to their employees if there are injured or become ill at work.
Where a 'suitable person' is absent in temporary and exceptional circumstances (81. not including annual leave) it shall be sufficient compliance if the employer appoints a person, or ensures a person is appointed to take charge of the situation, equipment and facilities.
4. An employer should make an assessment of first-aid needs appropriate to the circumstances (hazards and risks) of each workplace.
9. There is no requirement for the assessment of first-aid needs to be formal or written down, though it may be useful for employers to retain a written record to demonstrate how they decided on their level of first aid provision.
Allocating an Appointed Person
7. If an employer, after carrying out a needs assessment, decides a first-aider is not required in the workplace, a person should be appointed to take charge of the first-aid arrangements.

The role of the appointed person includes looking after the first-aid equipment and facilities and calling the emergency services when required.
Needs of Travelling, Remote and Lone Workers
21. Employers are responsible for meeting the first-aid needs of their employees working away from the main site.
The assessment should determine whether those travelling long distances or are continuously mobile should carry a personal first-aid kit.
First Aid Provision for Non-Employees (i.e. the Public)
28. Regulations do not require employers to provide first aid for anyone other than their own employees.
However, many organisations, such as schools, places of entertainment, fairgrounds and shops, provide a service for others and it is strongly recommended that employers include non-employees in their first-aid needs assessment and that provision is made for them.
Where first-aid provision is intended to cover both employees and non-employees, employers should check that their liability insurance covers all the activities of first-aiders.
31. It is sensible for employers to provide first-aiders and appointed persons with a book in which to record incidents.
Where there are a number of first-aiders working for a single employer, it would be advisable for one central book to be used; though this may not be practicable.
Information to be recorded should include:
date, time and place of the incident
name and job of the injured or ill person
details of the injury/illness
what first aid was given
what happended to the person immediately afterwards
name and signature ot the first-aider or person dealing with the incident
36. The minimum level of first-aid equipment is a suitable stocked and properly identified first-aid container.
Every employer should provide at least one first-aid container supplied with a sufficient quantity of first-aid materials suitable for the particular circumstances, at each work site.
First-aid containers should be easily accessible and prefereably placed near to hand-washing facilities.
All first-aid containers should be identified by a white cross on a green background.
38. There is no mandatory list of items to be included in a first-aid container. A minimum stock of first-aid items for a low-hazard work environment might be:
a leaflet giving general guidance on first aid
20 individually wrapped sterile plasters
2 sterile eye pads
2 individually wrapped triangular bandages, preferably sterile
6 safety pins
2 large sterile, individually wrapped, unmedicated wound dressings
6 medium sterile, individually wrapped, unmedicated wound dressings
3 pairs of disposable gloves (minimum)
Duties of Self-Employed Persons
84. A self-employed person shall provide, or ensure there is provided, such equipment, if any, as is adequate and appropriate in the circumstances to enable them to render first-aid to theirselves whilst they are at work.
Where the self-employed work on premises under the control of an employer or with other self-employed workers, they are each responsible for making their own first-aid provision.
Joint arrangements can be made with other occupiers to provide common cover.
First Aiders and Legal Action
It is very unlikely that any action would be taken against a first-aider who was using the first-aid training they have received. It is recommended that legal advice or advice from the employer's insurance brokers is sought on whether employer policies cover first-aiders' liability.
To keep current with the latest First Aid legislation and information we recommend that you refer to the following organisations:
The Health and Safety Executive and local Government are the enforcing authorities working in suport of the Health and Safety Commission. The Commision are responsible for health and safety regulation in Great Britain. Information on all aspects of first aid at work can be found by selecting First aid at work in the 'health and safety topic' box.
The UK Resuscitation Council provide regularly updated education and reference materials regarding the most effective methods of resuscitation.